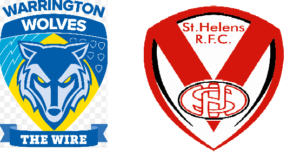 Saints secured the league leaders shield for a 2nd consecutive season with five rounds to go following their 26-6 win at home to Wakefield and Warrington's 30-10 defeat in the South of France. The Saints are now 12 points clear and can no longer be caught.
Saints have been truly remarkable this season and have set an incredibly high standard that nobody has been able to match. We have suffered just 3 defeats all season, one of those against Catalans when we lost both our half backs to injury before the game and the other two against London when we played weakened sides. The key now is to be at our very best in the Challenge Cup Final and the Play Off Semi Final game in September.
Finishing top of the table gets little recognition these days unfortunately. There is a good perk that comes with it in terms of a £100,000 prize money, but the trophy itself (the Shield aka the Hubcap) is treated with very little respect. To be the most consistent team over two seasons and to have lost just seven league games in over fifty games is outstanding.
I am very much in the camp that top spot should get more recognition and reward than it currently does. I completely appreciate that the Grand Final is a big event and the RFL will not be changing that. The Top five structure does favour top spot more, as they get a week off and a 2nd chance to make the Final should they lose their 1st Play Off game, whereas last season's structure didn't really give top much of an advantage. If Saints didn't make the Grand Final this year with that advantage it would be poor on our part.
My own idea is a top 3 play off system. 1st go straight into the Grand Final, 2nd v 3rd to play each other in a knock out game for the other spot in the final. More teams will want to finish top then and the focus will be on playing your best team and not hand-picking games like some sides do now. Some will argue teams that are further down the table will have nothing to play for, but to me mediocrity shouldn't be rewarded. The focus should be on improving your side to aim for the top, not settling for mediocrity and a mid-table finish each season.
Our opponents
Warrington's recent form has been very poor having lost five league games in a row and five games out of their last six, the one win coming against Hull in the Challenge Cup Semi Final. It may be that Warrington are targeting Wembley and have been for a few weeks, but that form is very concerning. It's difficult to turn it on and off and losing becomes a habit. They've gone from being comfortably 2nd in the league to being in a battle with 3rd and 4th. Wigan were miles behind Warrington in June but now sit just four points behind them and they play each other next week. Hull sit just two points behind Warrington.
Having beaten Warrington twice already this season, this would've been the perfect opportunity for them to deal a psychological blow to us just before Wembley but having seen the squads for Thursday's game they appear to have given this one up and have rested many of their 1st teamers. I'm not sure what there reasons are but it may be that they simply preserving players before Wembley, the short turnaround after France has had an impact or perhaps they see the game against Wigan next week as a more crucial game.
The Squads
Warrington
Sitaleki Akauola, Luther Burrell, Ben Currie, Matt Davis, Riley Dean, Bryson Goodwin, Chris Hill, Luis Johnson, Toby King, Harvey Livett, Jake Mamo, Pat Moran, Ben Murdoch-Masila, Stefan Ratchford, Lama Tasi, Josh Thewlis, Danny Walker, Ben Westwood
St Helens
Jonny Lomax, Tommy Makinson, Kevin Naiqama, Mark Percival, Regan Grace, Theo Fages, Danny Richardson, Luke Thompson, Zeb Taia, Joseph Paulo, Louie McCarthy-Scarsbrook, Kyle Amor, Dom Peyroux, Matty Lees, Jack Ashworth, Aaron Smith, James Bentley, Matty Costello, Jack Welsby
Lachlan Coote (knee), Alex Walmsley (eye), Morgan Knowles (ribs) and James Roby (assume rested) miss out this week and Matty Costello steps into the 19. It's a strong side given the injuries and it makes complete sense to rest Roby and keep him fresh for the final. I wouldn't be surprised if one or two changes were made from the 19, especially having seen Warrington's '18 man squad' where they have rested several first team players. It's an 18-man squad because it is expected that new signing Matty Smith will step in and play this Thursday.
Head to Head
Last 6 games – Saints 5 wins, Warrington 1 win.
Last meeting – Warrington 10 – 21 St Helens, Halliwell Jones Stadium, Att. 14,211.
Our recent record against Warrington is very good, with just one defeat during our last six. Unfortunately for us that was in the Play Off Semi Final last year, so our recent big game record against Warrington is still alarming, especially as we head towards a Final against them in a few weeks' time. Our last battle with Warrington was a classic, close battle which Saints won with three late tries in a 21-10 victory. Warrington's form since then has nose-dived, whilst Saints have gone on from strength to strength.
Key battles
Lomax v Ratchford – It is likely that Lomax will step back in at full back for this one and if he does it will be an intriguing battle against Stefan Ratchford who has just returned from injury. Ratchford missed the last encounter and it proved crucial as stand in full back Jake Mamo had a torrid time defending kicks.
Hill v Thompson – These two are two of the best front rowers in the competition and it will be another great battle between these two. Whoever gets on top up front usually wins and it was Thompson who get the better of his counterpart last time out.
Prediction
Saints have gone with a strong squad whilst Warrington have rested several of their players for this one. Saints may decide to make a change or two from the 19 before the game, based on Wire's squad but even so, we will go in as big favourites for this one. It's a strange game with us meeting again in two weeks' time at Wembley and the key here is that we suffer no injuries. A win would be nice and would give us more confidence heading into Wembley. Saints by 20.