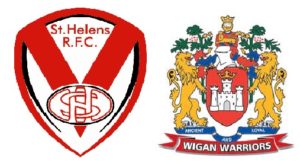 The Saints made it back to back Grand Finals following their impressive 48-2 victory over the Catalan Dragons in a fiery encounter at the Totally Wicked Stadium and will now face the enemy, the Wigan Warriors at the KCOM Stadium on Friday, for the right to be called Champions or in Saints case back to back Champions.
It was arguably our best performance of the season as we brushed Catalans aside with ease in a clinical attacking performance and a brutal defensive effort. Catalans didn't come to play as they were more intent in the physical side of the game rather than trying to play rugby. This led to two sin bins, but it could've been more as the Dragons played the game on the edge throughout.
The Saints handled the foul play brilliantly though, combatting it with controlled aggression and hitting them on the edges with kicks and plays that opened Catalans up and were able to score at crucial points in the contest. I enjoyed everything about our performance last week, the two-week break worked wonders for us and we came back fresh, well prepared and hungry and we looked like a team worthy of being Champions.
The big concern during the game though was the head knocks to LMS and James Graham, and the knee injury which Walmsley picked up. LMS came back on so he will be fine for the Grand Final. James Graham will be required to pass the head test protocols, but Woolf is very confident he will be fine to play. Walmsley carried on during the game before eventually being brought off towards the end of the game as a precaution, and his fitness is probably the most crucial of all. He is the difference maker, because of his size and ability to make yards and create space for others. We need him fit and firing on all cylinders this Friday and whilst I don't anticipate he will miss out, what shape is his knee in? Wigan will target his knee if he plays, so we need to be aware of this and the targeting needs to be well policed by the referee.
The key will be trying to play the game in Wigan's half and dominate the forward battle. We didn't do that last time out against Wigan and the loss of Walmsley was felt in the pack, especially in the 2nd half. We need to lay the platform in the pack, be brutal in defence and be clinical when we get our chances. The kicking game will be critical as we will need to pin Wigan in the corners and keep their metres restricted to where their backs cant do any damage.
Our Opponents
Wigan go into the final high on confidence following five consecutive wins since their Challenge Cup Semi Final loss to Leeds, including a victory against us one month ago. They were impressive against Hull last weekend, although Hull offered very little with the ball, but defensively they were excellent. They took the sting out of the game in the opening 20 minutes when Hull threw everything at them and eventually wore them down in the 2nd half to take the score away from Hull.
The likes of French, Farrell, Hastings and Hardaker are in great form at the moment and it will be a big test for our defence to contain their attacking threat on the ball.
It is their defence at the moment that is their strength having conceded just 40 points in their last five games, an average of just 8 conceded per game. During that run they've beaten ourselves, Huddersfield, Hull and Warrington. That foundation gives them a great chance on Friday, and it will be very tough for us to break them down. Its vitally important we play Wigan in their half and wait for them to crack.
21 Man Squads
St Helens
Lachlan Coote, Tommy Makinson, Kevin Naiqama, Regan Grace, Jonny Lomax, Theo Fages, Alex Walmsley, James Roby, Zeb Taia, Dom Peyroux, LMS, Morgan Knowles, Matty Lees, Kyle Amor, Aaron Smith, James Bentley, Jack Welsby, Joe Batchelor, Josh Simm, Lewis Dodd, James Graham.
Wigan Warriors
Zak Hardaker, Chris Hankinson, Oliver Gildart, Joe Burgess, Bevan French, Tommy Leuluai, Tony Clubb, Sam Powell, George Burgess, Willie Isa, Liam Farrell, Sean O'Loughlin, Joe Greenwood, Morgan Smithies, Oliver Partington, Joe Bullock, Liam Byrne, Jake Bibby, Harry Smith, Jackson Hastings, Brad Singleton
The Saints have named an unchanged 21 man squad and are expected to name an unchanged line up providing James Graham comes through his head tests OK. Jack Welsby was named at Centre last week ahead of Josh Simm and he did a fantastic job, containing one of the best Centres in the game in Israel Folau and he will face another tough test this week against Zak Hardaker.
Dom Peyroux, James Graham and Zeb Taia will play their last games for Saints and I would personally like to thank them for their fantastic contributions not only this year but during their career at Saints and their previous clubs. Taia and Graham will retire after this game and Dom Peyroux will move to Toulouse in 2021. They have been fantastic servants for this club and all three deserve better than to end their Saints careers with no supporters, but hopefully they will all have a Grand Finals winners ring at 10.30pm on Friday.
Referee – Chris Kendall
Kick Off – Friday 27th November, 8pm Kick Off
Venue – KCOM Stadium, Hull
The appointment of the referee has caused a bit of controversy this week. He has reffed the last seven Wigan games, which admittedly is bizarre. His last two outings in particular were very poor, especially the Leeds v Catalans game when he didn't take control of the game at all and allowed Catalans to get away with some terrible foul play. It would be foolish to suggest any bias here, referees aren't biased and if they were, they'd bring the integrity of the sport into disrepute. But the RFL have thrown Kendall under the bus a bit by selecting him and its arguably controversy that wasn't required before a final. Let's hope the referee isn't a factor this Friday. We've got two very good sides and there's not a lot between them. We need a strong referee and for him to remain pretty anonymous.
The only thing Saints can worry about though, is what they can control and that is focussing on our performance and doing everything we can to put us in the best position possible, where the referee doesn't become a factor.
Weather Forecast
It is expected to be a dry day on Friday which should allow for a fairly open game in good conditions. It will be cold as expected in November, with temperatures likely to be around the 6 degrees mark come kick off.
Head to Head
Last 6 games – Saints 5 wins, Wigan 1 win.
Last meeting – St Helens 6 – 18 Wigan Warriors, Totally Wicked Stadium.
The last six derby battles have been fairly one sided with Saints coming out on top in the majority of them, but Wigan won the last game 18-6 in an intense defensive battle a month ago.
Sometimes you learn more in a loss than you do in a win, and one thing you can guarantee this Friday is Saints will not take Wigan lightly and will want to avenge that defeat. We simply didn't play well enough last time we played and we allowed Wigan to turn the game into a bit of a slug fest in the 2nd half. Instead of playing a controlled game of aggression and playing intelligently, we got sucked into Wigan's game and allowed them to get on top of us. We cannot do this on Friday, we need to play the game our way, try and speed the game up from dummy half and move their compressed defence around a bit more.
Key Battles
Lachlan Coote v Bevan French – Two of the best full backs in Super League go head to head this Friday in a great clash of the full backs. Coote links the play together and his combination with Lomax and the three quarters is crucial to our attack. He was sensational on Friday and we need more of the same if we are to stand a chance this Friday. French is a more individual player who is excellent given any space and is very dangerous on kick returns. Saints need either keep the ball away from him as much as possible on kicks or close him down on kick returns so he doesn't have space to run into. He has dropped a few high balls recently so in certain areas it may be wise to test him out, but not closing him down would be foolish.
Theo Fages v Jackson Hastings – The two half backs could hold the key to victory in this one. Theo Fages has bit a little bit up and down at times this season but generally in big games he turns up to play and his ability to run at the line and commit defenders before the pass, could be vitally important as could his kicking game which was excellent on Friday. Our forwards getting on top gives him the space and time to kick and his contribution as a half is crucial this Friday. Hastings as started to hit his best form recently and even though he played at hooker last week, he will most likely slot back into the halves this week. Saints need to stop his running game and pressure him when he is kicking the ball.
James Roby v Sam Powell – Roby is in sensational form and will once again be the talisman for Saints. He is fantastic off the back of the likes of Walmley and LMS charging runs down the middle and the more space he gets, the better our chances. Powell is a consistent performer for Wigan. He's nowhere near the class of Roby but he gets them ticking from dummy half and he's one of the 1st names on Wigan's team sheet.
Prediction
Both teams will be confident and will be ready to go this Friday. For me the battle will very much come down to the little things such as the battle in the forwards, completing the sets, the kicking game and staying composed. Whoever does that better will win the game and I'm sure these messages are being talked about in the Saints dressing room. Whilst I've not mentioned him int eh key battles, Alex Walmsley could be the difference maker if he is fully fit. If he manages to play big minutes, he will hurt Wigan and punch holes in their defence. On this basis I'm going to go for a narrow Saints victory. Saints by 8.