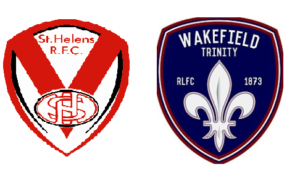 The Saints take on Wakefield for the 2nd time in a week this Thursday at the HJ Stadium, following our 20-16 win over them last weekend in a very tight match at Headingley Stadium.
Saints sit comfortably top by 5.49% currently (which I'm guessing is 1 maybe 2 wins clear? Who knows!) but our performance against Wakefield on Friday was very poor, especially in the 1st half. We failed to complete any of our first five sets and soon found ourselves 12-0 behind after just 20 minutes.
I personally thought it was our worst display in three seasons. Our ball retention was really poor, around the 60% mark by the end of the game and our handling skills were pretty dire, even though the conditions weren't the best. We seem to have reverted to a very simple, five drives and a kick game plan and whilst we are getting the results just about currently, these tactics will not trouble the big guns come the Play Offs and we will come unstuck soon. It is our defence that is winning us games currently as restrict teams to very little points.
Where were the dummy runners? Where were the planned moves? We seemed to lack any kind of attacking structure, creativity or organisation and just reverted to type by taking a drive upfield and kicking deep or high at the end of the set. This tactic works when you need to find your way back into the game which we did in the 1st half but we had plenty of opportunities in the 2nd half to showcase our skills and failed to do so. We got lucky again I felt, and on another day would've lost the game just like we nearly did against Hull KR. The 1st two performances after lockdown were exciting, full of skill and flair but since the Cas game, we have shown some worrying signs in attack. Our skill level in attack just seems to have deserted us recently.
The most frustrating thing is this team is the best in Super League. We have a fantastic pack, which is winning games on its own at the moment, we have a very quick and skillful backline and our full back and halves is a good combination who have the ability to link very well with the backline as we saw in 2019 and as we have seen a couple of times post lockdown. The other worry I have about our current attacking structure is we are going to run our pack into the ground before we get to the Play Offs. We cannot allow our biggest strength to suffer before the Play Offs, especially James Roby who is still a key cog for this team. Aaron Smith needs to be featuring more regularly and making a play for that 9 spot in future. His absence the last few weeks has baffled me. There is simply no need to play Roby 80 minutes a week anymore. Woolf needs to stop tinkering with the final bench spot, put Smith on there and if he wants to give Welsby / Dodds game time, play them in the halves and give Theo or Jonny a rest or give Theo some minutes at 9.
There were some good performances though with six players making over 100 metres – Makinson 186, Grace 107, Walmsley 171, Roby 131, LMS 123, Coote 127 and Simm 115. Roby also topped the tackle count making 60 tackles, Bentley 51 Knowles 45 and LMS with another excellent 41 to cap another fine performance. I'd argue LMS and Roby have been our best two players in the last few games and without them we'd have lost at the weekend.
Our Opponents
Wakefield have lost all 9 games post lockdown and currently sit bottom of the table, but they didn't look like a bottle of the table team against us last weekend. They had several first teamers missing but still performed very well.
They defended really well, got stuck into our pack and caused us lots of problems. Alex Walker, Ryan Hampshire, Jacob Miller and Kyle Wood in particular had very good games and on another day they'd have taken the spoils.
Saints are going to have to be a lot better this weekend, we have to retain the ball better and more importantly ask more questions of their defence.
21 Man Squads
St Helens
Lachlan Coote, Tommy Makinson, Kevin Naiqama, Regan Grace, Jonny Lomax, Theo Fages, Alex Walmsley, James Roby, Zeb Taia, Dom Peyroux, LMS, Morgan Knowles, Matty Lees, Kyle Amor, Aaron Smith, James Bentley, Jack Welsby, Joe Batchelor, Josh Simm, Lewis Dodd, Jake Wingfield.
Wakefield
Alex Walker, Tom Johnstone, Reece Lynn, Ben Jones-Bishop, David Fifita, Matty Ashurst, Joe Westerman, Craig Kopczak, James Batchelor, Chris Green, Adam Tangata, Max Jowitt, Josh Wood, Jack Croft, Ryan Hampshire, Connor Bailey, Kelepi Tanginoa, Romain Navarrette, Innes Senior, Eddie Battye
Saints didn't pick up any injuries during the Wakefield game, but we know James Graham will still be unavailable as he self isolates after being in contact with someone who has coronavirus. He will return next week against Leeds. Jack Wingfield steps int the 21 man squad in his place. The majority of the side will remain the same you'd imagine, although Woolf has hinted Smith or Dodds will be on the bench this weekend. I'd personally go for Smith on the bench and maybe look at taking Fages or Lomax out of the side for a week to give Dodds a shot.
I'm also hoping players revert back to their actual positions. Knowles is better at loose forward and LMS from the bench, so hopefully that will be the case this week with either Peyroux or Taia coming back into the starting team in the 2nd row.
Referee – Robert Hicks
Kick Off – Thursday 15th October, 7.45pm Kick Off
Venue – Halliwell Jones Stadium, Warrington
Weather Forecast
Weather conditions appear to be lot better this week than last week and whilst it will be relatively cool (just 9 degrees by kick off time), it should remain dry and sunny throughout the day which should allow for a more open game this week.
Head to Head
Last 6 games – Saints 6 wins, Wakefield 0 win.
Last meeting – Wakefield 16 – 20 St Helens, Emerald Headingley Stadium.
The Saints have a good record against Wakefield having won six of the last six games but as we know the last games was a tight battle and its rare that we put a big score on Wakefield, they are a tricky side for us to face despite their position in the table.
Key Battles
James Roby v Josh Wood – The two hookers were outstanding last week and will be key to their sides chances once again. We've got to be careful with Roby and make sure we don't overuse him. Josh Wood had a fantastic game probing down the middle and had some good success. We've got to be tighter at the ruck and prevent Wakey getting a roll on.
Lachlan Coote v Alex Walker – The ex-London full back had a pretty good game last week scoring a try, but he was also dangerous returning the ball back from kicks and not much went past or through him. Coote and Lomax are key to our attack along with Roby. Coote was off the boil last week so will be hoping for a much stronger performance this week.
Prediction
It will be interesting to see what Saints have learned from last week's game. They will be focussing on starting the game much better than they did last week and hopefully with a drier track and not paying catch up that will allow us to play more rugby and not rely on single runs. We're not in great form, but we keep picking up the results due to our defence. This is a crucial game as our next lot of six get tougher so a win is vital. Saints by 14.