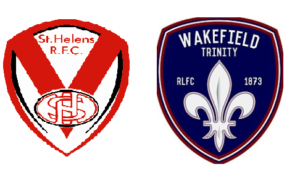 Following a few weeks hiatus, I'm back with another preview as the now clear league leaders, Saints take on the Wakefield Trinity Wildcats at Headingley this Friday.
Due to being knocked out of the Challenge Cup and having a bye round in the league, Saints will have only played twice in three weeks once the Wakefield game comes around, so whilst we will be nicely rested up, there may be a lack of sharpness in our performances at the moment. This will soon change when we start playing midweek games to cram the season in, but at the moment we're nicely rested up and relatively healthy.
Saints won comfortably last time out in a rare Tuesday night derby against Wigan recording a 42-0 win against a young Wigan side. On another day we'd have scored 3 or 4 more tries, as we blew a number of good chances on the night, but overall it was a satisfactory night and professional performance from Saints and Wigan never really looked like scoring on the night. That's now five derby wins in a row, which is our best record against Wigan since the mid 2000's. Nilling your rivals is always pleasurable and it was Saints third shut out scoreline of the year following nillings over Leeds and Castleford post lockdown. We also nilled Toronto pre lockdown (which has now been scratched from the records sadly), so defensively we have been at our best this year and it is the highlight of our performances so far. We have conceded just 68 points in 8 games (league and cup) since the lockdown period, an average of 8.5 points conceded per game, which is quite frankly outstanding.
There were some impressive stats for Saints against Wigan with 7 players making more than 100 metres – Grace 187, Walmsley 120, Roby 133, Taia 121, Coote 124, Welsby 155 and Simm 109. James Bentley topped the tackle count with 53 with Knowles behind him with 41. LMS put in a good performance also making 96 metres and 40 tackles, an excellent return for a prop.
Despite our current position in the table, there are slight rumblings of discontent among some Saints fans that our style of play is not exciting under Woolf and we rely on forward power to beat the opposition. There is some truth to this, its something I have certainly noticed in attack. We do rely on our forwards to punch holes and create chances, and there is nothing wrong with that at all when it is the strength of the team. There's no doubt we play it tighter with the ball and have focussed on defence this season. Despite that we have the best attack and best defence currently in the competition and sit top of the pile, so its clearly working what we are doing.
Our Opponents
Wakefield have been in terrible form since post lockdown losing all 8 of their games in the league and cup competitions and currently sit bottom of the table. They come closest to a victory in their 1st game after lockdown being pipped by Wigan 23-22, but since then they haven't really come close to picking up a victory and have also been on the end of a couple of heavy scorelines against Catalan (58-0 and 40-8) and Warrington (36-0).
I've only seen bits of Wakefield this season and in patches they don't look a bad side. They have a decent pair of half backs and in Tom Johnstone and Bill Tupou, they have a threatening left edge, so I'm not quite sure where it has all gone wrong for them this season.
Chris Chester was being touted as a potential coach at a bigger club last season and the season before, but it is looking more likely that he will face the sack if this form continues. If clubs weren't struggling financially, Wakefield may have already bit the bullet and sacked him, but maybe finances dictate that coaches will be given longer with no threat of relegation looming.
21 Man Squads
Wakefield
Alex Walker, Tom Johnstone, Reece Lynn, Ben Jones-Bishop, Jacob Miller, David Fifita, Kyle Wood, Tinirau Arona, Matty Ashurst, Jay Pitts, Craig Kopczak, James Batchelor, Adam Tangata, Jordy Crowther, Max Jowitt, Jack Croft, Brad Walker, Ryan Hampshire, Kelepi Tanginoa, Innes Senior, Eddie Battye
St Helens
Lachlan Coote, Tommy Makinson, Kevin Naiqama, Regan Grace, Jonny Lomax, Theo Fages, Alex Walmsley, James Roby, Zeb Taia, Dom Peyroux, LMS, Morgan Knowles, Matty Lees, Kyle Amor, Aaron Smith, James Bentley, Jack Welsby, Joe Batchelor, Josh Simm, Lewis Dodd, James Graham.
Tommy Makinson returns to the Saints squad from a five game suspension following the rather bizarre 'testicle grab' against Castleford's Liam Watts. Welsby has stood in and done well, but it will be a welcome relief to have Makinson back on the wing. He has become a key player especially with his kick returns and hopefully he will get a clear run for the rest of the year now especially with Mark Percival being ruled out for the rest of the season with a hamstring injury. Apart from that we are very healthy at the moment and it is likely Josh Simm will retain his place in the Centre, but there are a few options Woolf could go with.
Referee – Liam Moore
Kick Off – Friday 9th October, 5.30pm Kick Off
Venue – Emerald Headingley Stadium, Leeds
Weather Forecast
You will not be surprised to hear that it is likely to rain this Friday with low temperatures and a light breeze expected. The kicking game and playing out our sets will be important. As we saw with the Challenge Cup, the weather conditions can be a leveller therefore Saints will need to play smart and not take this one for granted.
Head to Head
Last 6 games – Saints 5 wins, Wakefield 1 win.
Last meeting – St Helens 26 – 6 Wakefield, Totally Wicked Stadium, Att. 9,494.
The Saints have a good record against Wakefield having won five of the last six games (winning the last five). Wakefield away always used to be a bit of a bogey ground for us but in general we perform well against Wakefield. Our last encounter was a comfortable win back in August 2019, in which we rotated several 1st teamers.
Key Battles
Kevin Naiqama v Bill Tupou – The two centres could have an impact on this game depending on the weather. Naiqama has had an up and down season but when he is in form he is very difficult to stop and defensively him and Makinson have been crucial for Saints down the right hand side. Tupou is arguably Wakefield's biggest attacking threat and his combination with Tom Johnstone is one of the best in the league. He was Wakefield's only try scorer in defeat at Catalans, so Saints know he will be a threat.
James Bentley v Matty Ashurst – James Bentley has been in great form since the restart and has added tough defence and grittiness to the pack, now displacing Dom Peyroux from the position. His work rate regularly puts him near the top of the tackle count, although he has been guilty of giving penalties / set restarts away, something he will need to work on. Ex Saints Ashurst is one of Wakefield's best attacking weapons as he forms a dangerous partnership down the left with Tupou and Johnstone. Our right side will need to be at its best to stop the attacking threat Wakefield's left poses.
Prediction
The weather will be a big leveller in this one and will keep the game quite tight. One thing Saints are good at is playing in the forwards and retaining possession. The kicking game will be important in trying to pin Wakefield down in their half and take advantage of any opportunities we have. On a dry track I'd fancy Saints comfortably, but in these conditions, you'd be foolish to predict a big win, so I will go Saints by 12.