Following the votes of the Redvee forum users, the Redvee Team of the Decade (2010-2020) is now confirmed.
So here it is, the 17 you have selected along with a description of their contribution during the decade, and I'm sure you'll agree a pretty formidable side: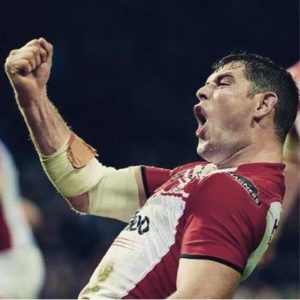 Full back: Paul Wellens (2010 – 2015)
Despite his best years being in the previous decade, Wellens still played a key role right up until his retirement in 2015. He scored 76 tries in 143 games during the decade, scoring a career equalling best of 24 in the 2012 season. He played a key leadership role in his last three and a half seasons after becoming sole club captain and his contribution to the 2014 Grand Final cannot be understated.
Winger: Ade Gardner (2010-2013)
Like Paul Wellens his best years came in the previous decade, but he still managed to score 35 tries in 60 games for Saints this decade. His finishing and running game always made him difficult to stop especially near the opposition line. Gardner was more prolific the previous decade but was still a mainstay in team until the 2012 season, with injuries blighting his career towards the end.
Centre: Matt Gidley (2010 – 2011)
Gidley signed for the club in 2007 replacing the departing Jamie Lyon and had a major impact during his four years at the club. Gidley retired after the 2010 season and was still an excellent player in his final season, despite returning just 8 tries in his 27 appearances. His silky hands, sidestep and 'flick' pass made him a constant threat in a Saints shirt and defenders were relieved when he retired. It has taken us almost a decade to find a right centre worthy of Matt Gidley's ability.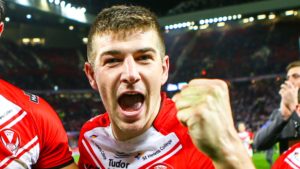 Centre: Mark Percival (2013 – current)
Percival was an automatic pick and the standout choice in the Centre poll. 88 tries and 225 goals in 158 matches this decade is an outstanding return. Percival has easily been our best centre over the last decade and played a key role in the 2019 Grand Final winning team, scoring a crucial 2nd half try to seal the game. His 2018 season was arguably his finest bagging 24 tries in 31 appearances and with his best years ahead of him, he will play a major role in the next decade too.
Winger: Tommy Makinson (2011 – current)
Makinson was another easy choice in the wingers' poll. He's scored 132 tries, 108 goals and 1 drop goal in 231 appearances throughout the decade along with wining the Golden Boot award in 2018. His best two seasons in the Red Vee have coincidentally come in the seasons we won the Grand Final, with 29 tries in 2014 and 24 tries in 2019. His all-round game not only makes him an easy pick for this side, but arguably he's up there with any winger we've had at the club. A great player with no real weakness in his game.
Stand Off: Jonny Lomax (2010 – current)
Jonny has played in a number of positions throughout the decade but has made the Stand Off spot his own since Ben Barba's arrival back in 2017. 105 tries, 102 goals and 2 drop goals in the last decade makes him one of our best and a certainty for this team, overcoming some serious injuries during the middle part of the decade. The 2019 season was arguably the best of his career as he contributed almost 40 of our Super League tries.
Scrum Half: Theo Fages (2016 – current)
Theo is another player that has played in a number of positions since his arrival in 2016. He originally played at Stand Off in his 1st season and was mainly used as a utility player covering at 6,7 and 9 after that. He finally nailed down the 7 position in 2019 after impressing in pre-season ousting Danny Richardson from the role. He's scored 31 tries for Saints in his 4 years for Saints having his best season in 2019. Whilst maybe not as talented as some Scrum Halves, his all-round game is good and he compliments Lomax exceptionally well. He was one of the key reasons we became Champions in 2019.
Prop: James Graham (2010 – 2012)
Graham only played for Saints for two seasons during this decade, but his presence and performances were outstanding right until he left for the NRL. He was the cornerstone of the pack for many years and it took us  long time to replace him after his departure to the NRL. Whilst it was only a short stay this decade, his influence at both Saints and in the NRL makes him a certain pick as he topped the prop forwards poll beating off strong competition from Alex Walmsley and Luke Thompson.
Hooker: James Roby (2010 – current)

The only ever present for Saints during this decade and fully deserved selection in this team. A total of 63 tries in 280 games for Saints this decade for the Captain and very few games missed during that period. 2019 was a change to James' role as Aaron Smith and Josh Eaves featured more regularly to give him much needed rest, which you imagine will be the theme for the rest of his career, but he is still a crucial player to our team. We have been blessed to have James in the team since his debut in 2004 and when he finally does retire, he will be almost impossible to replace.
Prop: Alex Walmsley (2013 – current)
Signed from Dewsbury in 2013, I don't think many would've predicted the incredible rise of Alex Walmsley from part timer to International. Walmsley's size and power has made him a human wrecking ball, and after the loss of James Graham at the end of 2011, Walmsley was the man who eventually became the leader of the pack.  Another that caught interest from the NRL, but he decided to sign a long-term deal with Saints in 2017. 26 tries in 180 games this decade but it's his devastating power that makes him eye catching. His serious neck injury in 2018 put doubt on his career, but thankfully he was back to his best in 2019 and it was his and Luke Thompson's performances that helped lay the platform for the title win.
2nd Row: Sia Soliola (2010 – 2015)
Sia signed for the 2010 season and came with a reputation of a hard-hitting Centre / 2nd rower. Unfortunately, his 1st season was ruined by an ACL injury which meant he only played 6 games in total. He had a relatively injury free four years after that playing 117 games in total scoring 31 tries. His final season was arguably his best with an influential performance in the Grand Final where he scored a crucial try early in the 2nd half. He has since had a very successful stint with the Canberra Raiders in the NRL culminating in another Grand Final in 2019, albeit it in defeat. Sia was a fans favourite throughout his time at Saints and deservedly gets in this team.
2nd Row: Zeb Taia (2017 – current)
One of Cunningham's more successful signings, Taia was brought in to replace the departing Joe Greenwood and despite an up and down 1st season, he has been very good for us, especially since Holbrook took charge of Saints. Zeb has nearly 100 games for Saints in 3 seasons and has very rarely missed any matches during that period. His line running, offloading game and defence makes him one of the top performing back rowers in Super League and when he does leave, he will be a big hole to fill. He would've complimented Sia Soliola perfectly if he'd have been at the club earlier.
Loose Forward: Jon Wilkin (2010 – 2019)
Wilkin is the marmite of Saints players, some love him and some dislike him. He has played in several positions over the decade covering in the back row, hooker and in the halves for large periods due to injuries and poor recruitment and has given everything to the cause to help his side. He was regularly topping the tackle count during his time at Saints and deserves more plaudits than he gets. He won the poll convincingly ahead of Morgan Knowles and deservedly so. He played in 242 games for Saints this decade bagging 32 tries. An excellent servant for Saints during this and the previous decade.
Subs:
LMS (2011 – current):

Signed for the 2011 season and has become a fans favourite in recent years due to his energy, personality and versatility. Mainly played at prop, but has had stints at second row, loose forward and even at Centre throughout the decade. 55 tries in 274 games is a good return for a forward and apart from two seasons, he has made over 30 appearances in every season.
Luke Thompson (2013 – current):
Another international calibre player who has come through the Saints academy, Thompson's development has been exceptional especially in the last 2 seasons where he's become a world class prop forward. His performance in the Grand Final in 2019 earned him the Harry Sunderland award following a fantastic performance. He is constantly being linked with the NRL but Saints will be hoping to keep him for a few more seasons yet.
Keiron Cunningham (2010-2011):
2010 brought an end to an incredible 17 year playing career for Saints and whilst 2010 may not have been his best ever he was still a major influence on the Saints side, scoring a memorable late try against Castleford in the final game of the season to secure 2nd spot in the Play Offs.
Morgan Knowles (2015 – current):
Another Saints academy product who is improving every season as he establishes a reputation of being one of the best loose forwards in the country. His last two seasons in particular have been very impressive and he's become such a reliable cog in the Saints machine. Knowles all round contribution to the side has alerted the NRL sides and no doubt he's even more on the radar following his Grand Final performance, where he scored the crucial opening try.