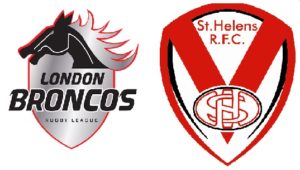 London v Saints – Round 23 Match preview
The Saints have bragging rights over derby rivals Wigan in the regular season of 2019 as we won yet another derby at the Totally Wicked Stadium, following a 32-10 victory. It's rare you see a clean sweep of derby wins in a season and our win also puts us 10 points clear following Warrington's surprising home defeat to Salford.
Last game review
This was as comfortable a derby victory as you are likely to see (which you would've done if you attended, as it wasn't on TV). Wigan came out of the blocks quickly and with intent, more so than on Good Friday as they looked to gain an early advantage, but they were unable to convert this into tries and instead went for goal to take a 2-0 lead and then when 6-2 down, they again went for goal to make it 6-4. For Saints, despite starting slowly this gave us the mental edge we needed. It sent a message that Wigan weren't confident of backing themselves to score against our defence and we slowly grew into the game after this.
It took Saints a bit of time but once in our stride, we dominated the game and from the 20th minute mark right up until around 60 minutes, our forwards were on top and were turning the screw on the Wigan defence. It wasn't a great Saints performance, we gave away 11 penalties and made 16 errors which is poor by our standards. Our defence was outstanding though, and this played a big part in making the score line so comfortable. We have conceded just 32 points in three games against 2nd, 3rd and 4th which is a superb effort, averaging just under 11 points conceded a game. Defence is ultimately what wins trophies, so this is an excellent sign at this stage of the season.
Our opponents
It's fair to say London have been the surprise package of Super League this season. They were heavily tipped for relegation at the start of the season, and whilst that is still a big possibility, they are fighting incredibly hard to stay up. Danny Ward is doing an incredible job down there against all odds, as their squad is nowhere near the quality of every other Super League team. They shouldn't even be close to staying up at this stage. Many predicted they wouldn't win a game, yet they've managed to win seven, one of them a close 23-22 victory against us in June.
After beating us in June, they won their next two games to record their best winning streak of the season with crucial victories against Catalans and relegation rivals Hull KR. Since then though, they have lost their last three games and all convincingly which is slightly concerning. They did put up a spirited 2nd half display against Hull last week so that will give them some confidence heading into this week, but they were never really in the game. They have slipped back to the bottom of the table following the three-game winning streak so a win here could be very important.
The Squads
London Broncos
Jordan Abdull, Sadiq Adebiyi, Eddie Battye, Rob Butler, James Cunningham, Sam Davis, Kieran Dixon, Matt Fleming, Matty Fozzard, Matt Gee, Ben Hellewell, Mark Ioane, Elliot Kear, Olsi Krasniqi, Jay Pitts, Greg Richards, Alex Walker, Rhys Williams, Luke Yates.
St Helens
Regan Grace, Danny Richardson, Joseph Paulo, Louie McCarthy-Scarsbrook Morgan Knowles, Kyle Amor, Dom Peyroux, Adam Swift, Matty Lees, Jack Ashworth, Aaron Smith, James Bentley, Matty Costello, Joe Batchelor, Josh Eaves, Callum Hazzard, Jack Welsby, Josh Simm, Lewis Dodd.
Holbrook made his intentions clear on Wednesday by announcing it would be a young squad that would be travelling down to London and the squad announcement confirms this. There could be debuts for Josh Simm, Callum Hazard and Josh Eaves this week. The rest will be made up of a few first teamers and some fringe players like Danny Richardson, Matty Costello and Aaron Smith.
This has caused a bit of debate amongst fans, with some claiming it is disrespectful to the competition, but I am 100% content with the decision Holbrook has made. Saints are currently 10 points clear in the table, so the result of this game will have no bearing on our position in the table and we have earned the right to play any side we choose. Holbrook's focus is to look after Saints and if he believes that giving players a rest at this stage of the year is most beneficial, then he is within his rights to do that.
I understand that it may be frustrating for the fans travelling down who want to see a strong Saints side in action, but you must look at the bigger picture sometimes. We play a lot of games and the fans have been entertained practically every week this season with the style of rugby we play. We are in a fortunate position where we can focus on particular games, and this could be a huge month coming up with a Semi Final and potential Challenge Cup Final on the horizon. After that we move into the Play Offs a month later so there isn't much opportunity for the players to catch their breath and recharge the batteries. The big game right now is Halifax on the 27th July, therefore it is the right move in my view to rotate and give others an opportunity. It also gives fans the chance to see the future generation of Saints talent and to see whether they can step up In Super League.
Head to Head
Last 6 games – London 2 wins, Saints 4 wins.
Last meeting – London Broncos 23 – 22 St Helens, Trailfinders Sports Ground, Att 2,801.
Key stat – Adam Swift needs two more tried to reach 100 for his career.
London have got a surprisingly decent record against Saints, having recoded two victories against us in their last six. One at the Twickenham Stoop back in 2013 (21-14) and last time out when they beat us in golden point extra time, 23-22. They gave a good account of themselves at the Totally Wicked Stadium this season aswell, so I don't expect this to be an easy game for Saints on Sunday. I'm sure for some players that played last time and are due to play again this Sunday, there will be an element of revenge on their minds though, looking to turn around the last result.
Key battles
Regan Grace v Rhys Williams – Two of the fliers will go head to head this weekend as London's top scorer with 12, whilst Grace is Saints 2nd top try scorer with 15. Both are quite exciting players for their respective sides so this could be a good battle on the edge.
Jack Welsby v Alex Walker – Another battle in the backs that could be fascinating is the battle of youngsters Walker and Welsby. Both exciting young full backs who have great futures in the game. Welsby will want to atone for his poor performance in the capital last time, whilst Walker will take on more playmaking responsibility in the absence of half back Morgan Smith.
Prediction
This young Saints side will be determined and ready to go this Sunday and London are desperate for the two points, so it creates an intriguing game. I think this will be like our last meeting in the Capital and I don't think there will be much in it, in the end. I think we will fall just short with the players missing and London's desperation will see them home. London by 6.