For many in our town, recent years have been tough, with austerity hitting the country hard and cuts to both the public and the private sector being felt across the borough. Over the past few years St. Helens has seen a rise in foodbank use and in the number of rough sleepers around the town. Redvee took part in the 'Community Sleep Out' event at the Totally Wicked Stadium back in March 2019 to help raise money for good causes in the town and to raise awareness of local issues which could affect those we know.
The Trussell Trust tells us that the there are at least 2,000 foodbanks in the UK – however this number does not include every type of food bank and so is an underestimate of the total figure. Hopefully you aren't in the position to need to use the foodbanks but we hope that if you are, you don't see it as a sign of weakness or failure if you have ever used one, or indeed need to use one in future. Everyone has troubled times in their lives, to varying extents, there is no shame in asking for help when it is needed.
Many organisations run schemes to help those struggling to keep their heads above water. At this time of year people can feel the pinch more so than at any other time. Neighbours, friends, relatives may require help, it could be families you've never met. You might want to help those in need – if so, here are a couple of suggestions of places to donate toys, gifts, Christmas items such as selection boxes and non-perishable food stuffs.
Saints Community Foundation – @CommunitySaints
The Saints Community Foundation has been collecting canned goods and essentials at every home game this season. Now the Chamions are taking a well earned rest, the Community Foundation are carrying on their good work by collecting toys, food hampers and selection boxes to those in need. Items can be donated via the Stadium Reception during Stadium Opening hours.
Teardrops – @TeardropsOrgUK
Teardrops Supporting the Homeless are an independent non profit charity supporting the homeless and vulnerable in St Helens. Their Christmas appeal is live and aims to provie gifts and hampers to the most vulnerable in St. Helens. In the New Year, as the weather stays cold keep an eye on their social media and website for appeals for warm clothing.
https://teardrops.org.uk/donate-food-drink/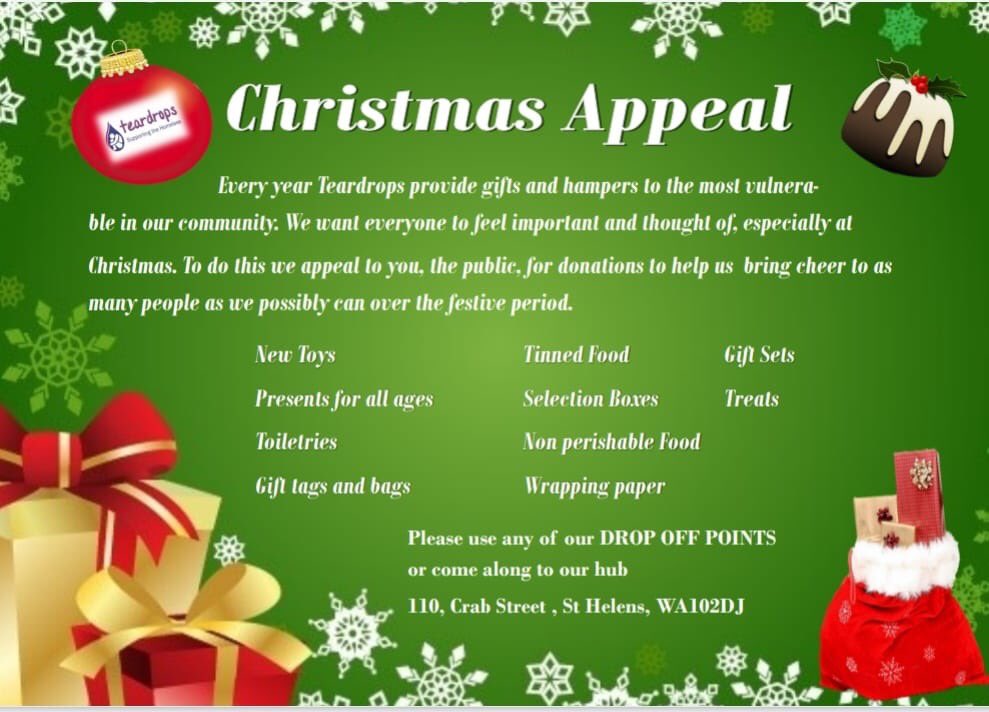 The Hope Centre/St. Helens Foodbank – @HopeStHelens
The St. Helens Foodbank was set up in 2012, linking with the Trussell Trust's UK foodbank network. They provide 3 days emergency food to help to support people out of a crisis.
https://www.hopecentre.org.uk/home/foodbank