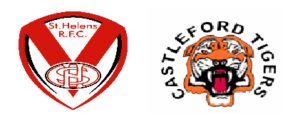 After a disappointing cup final loss at Wembley, Saints will look to get back on the horse at home to Castleford as we look to build some momentum going into the Play Offs. It was without doubt our poorest performance of the season at Wembley, as we made nearly 20 errors in hot conditions. In the rain you would've been disappointed with this, but in such good conditions that is extremely frustrating.
The Saints have effectively got three trial games before we need to hit our form again and that is quite a quick turnaround when you consider we have emotionally got to get over the Cup final loss. Last season we suffered after the Cup Semi Final loss to Catalans, losing the following game at home to Huddersfield, so Saints can't really afford to hit such a slumber again and must get over the loss and focus on what is ahead rather than looking backwards.
Last game review
I could spend most of this preview reviewing the last performance, but ultimately it was one of frustration. Firstly, congratulations to Warrington on their victory, they deserved it after defending their line so brilliantly. Their game plan was very simple – they ran hard, kicked long, tried to pin us in our own half and hunted the error. Unfortunately, we played into their hands and allowed them to dictate the pace of the game and made a lot of unforced errors at crucial times to give them possession in vital areas.
Warrington didn't do anything special. They were without their key playmaker Blake Austin, so knew they had to keep it tight and hope we had an off day, and we did. All three of Warrington's tries were within 15 yards of the posts and came from a simple run down the middle. All those tries could've been prevented quite easily and in league games this season, you've very rarely seen us concede tries that were so simple. The problem we had is the errors we made, as this resulted in us losing energy and tackles we would normally make, we weren't making.
I don't want to go into this too much but there's no doubt the referee's performance was not good in that 1st half. Saints have raised the issue of Knowles no try, which was no doubt a big moment in the game, even though it was so early. To not use the technology that is available in a Cup Final is very poor, and who knows what would've transpired if that had been given. There were another few dubious calls that seemed to go against us in the 1st half which were crucial, such as the Percival no try. Whilst this didn't directly lead to us losing the game, it did have an impact there's no denying it.
Saints have apparently raised the refereeing performance with the RFL to gain some clarification and whilst it may seem like sour grapes, I think it's fair to question it and gain some clarity. Cup Finals are often decided by fine margins and momentum is crucial, so these decisions were crucial in the momentum of the 1st half.
I do feel though, we need to move on and focus on our own failings. You cannot afford to make so many errors in any game, never mind a cup final. Finals are about defending well, building pressure and taking your chances and we pretty much failed in all three aspects. Saints needs to learn to adapt to the big games quickly and become a more patient team when in possession. The only positive is that we soon have the chance to turn this season around. The Cup Final loss will be forgotten if we get to Old Trafford and become Champions on October 12th and with our position in the table confirmed, we have a great chance of performing on the big night.
Our opponents
Castleford have had a very up and down season. They started the season brightly, but injuries have hit them fairly hit and ever since they've been battling to reach the Play Offs. They have recently hit a little bit of form though, having won four of their last five games with their only defeat coming in a 27-26 loss away at Hull KR.
They have a terrible record in St Helens though, never having recorded a win at Saints in the Super League era with their last win in St Helens coming in 1992. Castleford currently lie in 6th place in the table, level on points with Salford, so will be desperate to get the points this weekend and get themselves back into the top five or at least keep in touch with Salford.
The Squads
St Helens
Jonny Lomax, Tommy Makinson, Kevin Naqiama, Mark Percival, Regan Grace, Theo Fages, Danny Richardson, Alex Walmsley, James Roby, Luke Thompson, Zeb Taia, Joseph Paolo, LMS, Morgan Knowles, Kyle Amor, Jack Ashworth, James Bentley, Matty Costello, Jack Welsby
Castleford
Cheyse Blair, James Clare, Jamie Ellis, Oliver Holmes, Will Maher, Nathan Massey, Peter Mata/utia, Mike McMeekan, Paul McShane, Grant Millington, Adam Milner, Greg Minikin, Jacques O'Neill, Jordan Rankin, Jesse Sene-Lefao, Daniel Smith, Jake Trueman, Calum Turner, Liam Watts
Saints have unsurprisingly gone for a strong squad for this one. I imagine if we had won last week, we may have rested a few but the players will want to right the wrongs of last week and get back to winning ways. Some of the players need game time – the likes of Walmsley, Roby and Knowles, who have missed a fair amount of games recently, were nowhere near their best and need to find some form and momentum over the next three games before we head into the Play Offs.
Coote missing out due to concussion is frustrating though as he's the one that needs game time more than most. Apart from Coote, Dom Peyroux also misses out. I'd personally be looking to go full tilt now for the rest of the season and build some momentum for the Play Offs. Our combinations need to be playing together and the team need to feel confident and match hardened between now and our first Play Off game. Let's not forget we get a week off in round one of the Play Offs too, so they will be well rested.
Head to Head
Last 6 games – Saints 6 wins, Castleford 0 wins.
Last meeting – Saints 36 – 16 Castleford, Anfield (Magic Weekend), Att. 26,812.
Our record against Castleford is excellent having won the last six games all very comfortably, the closest battle being a 36-18 win away at Cas in 2018. Saints enjoy playing against Castleford, they just seem to be tailor made for us with their expansive style of football. But, a word of warning for us is we struggled last season after defeat in a big game, so Saints will need to come out angry rather than feeling sorry for themselves.
Key Battles
Lomax v Trueman – Lomax was very quiet at Wembley and will be looking to bounce back with a big performance this Friday. He has been outstanding for us this season, so he'll be disappointed with his last performance. Trueman is a very talented young half back and has done well this season in the absence of Luke Gale. He's got good pace and running game and Saints will need to be wary of it.
Walmsley v Watts – Walmsley was another who disappointed at Wembley after a three game lay off and he needs to stand up and deliver for the rest of the season now. He's up against a player who is likely to be in competition with him for end of season International honours, so both will be looking to impress this Friday.
Prediction
Saints need to use the cup final defeat as motivation for the rest of the season and Castleford is a good test for us to see how we respond. Cas need to win to stay in touch with the Top five and whilst the result doesn't matter for us, you always want to win your next game after a loss. We also have an unbeaten home record to maintain with two home games left to play so that would be a nice record to keep for the rest of the season. If Saints forwards respond, I think we will win quite well in the end. Saints by 14.