Over to one of my personal favourite grounds, Wheldon Road. You could argue whether the ground itself should be in Super League but the nostalgia of Knowsley Road is strong here!
On to the preview and we're talking to Terry Richardson. Terry is well qualified to talk about Cas after representing the club inbetween 1973 and 1983, scoring 102 tries in 237 appearances for Castleford, almost a try every other game. He also won a cap for England in an international win against Wales in 1981 at Old Craven Park.
Our thanks to Terry for his time.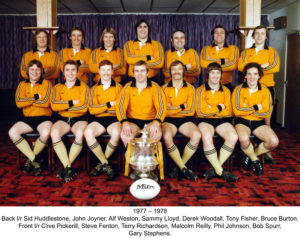 Photo sourced from the Castleford Tigers Heritage Project website at www.castigersheritage.com
First of all tell us a little about yourself…
I'm aged 64 and have supported Castleford since the mid-1960s, notably the 2 Challenge Cup winning sides in 1969 & 1970. I was lucky enough to play rugby league and represented Cas from 1973-1983. Over the last 3 seasons I have watched all the clubs home games (both Mens' and Womens' Super League) and the majority of away games. I also watch a good amount of Academy and Scholarship fixtures.
Sum up last season as a Cas fan.
2019 was a bit frustrating due to injuries to key personnel which meant we never got our attack out of third gear. Losing Luke Gale for the full season and having problems finding a settled fullback were the most telling – but also losing our 3 first line back rowers and captain for large chunks of the season didn't help. Most fans would say we did as good as could be expected in the circumstances.
We welcome Toronto into Super League for the first time, meaning we now have 2 teams from outside of the UK taking part in Super League.
So in three parts: a) What are your thoughts on Toronto's promotion, b) would you welcome more expansion teams from across Europe and/or North America and c) what would your ideal 'domestic' Rugby League competition look like in 20-30 years (e.g. Toronto to still be part of the Super League structure with other expansion teams, all expansion teams to be in their own strong domestic leagues, UK only super League etc.)

a) To be honest, I'm not massively pro or anti Toronto. They were allowed into the Rugby League structure so I can't see a problem with them being promoted into Super League on their merits. This coming season will give us an idea of whether their promotion is good for the game both here and in North America.
b) I think the addition at least one other French/Spanish Basque team would help Catalan grow the French game but I don't know how the North American project will work out.
c) If the game explodes over the Atlantic I think it would be better to have 2 conferences as in the NFL (Europe & North America) with each conference playing in their own league with possibly mixed Cup and end of season playoffs. That's just an opinion – not based on any evidence as the games hierarchy doesn't appear to have a plan.
How do you think the Tigers will go in 2020?
This season with an average amount of luck I would expect to finish in the top 5 in Super League. A better run in the Challenge Cup would be welcomed but that's more for the financial rewards not prestige. In the current game I'm of the opinion that the Challenge Cup comes a distant 3rd behind winning the Grand Final and League Leaders Shield.
Are you happy with your recruitment this year – is there anywhere you feel you need to improve?
As for recruitment I think on balance we have a slightly better squad for 2020. I get the impression that the vast majority of fans are happy having Danny Richardson as the replacement for Luke Gale and personally I think it's a great move for both Cas and Danny. I can't wait to see how his combination with Jake Trueman takes shape and if all goes well we'll have a partnership with potential to be the best in SL.
Of the other recruits I think all can add something to the squad. Sosia Feki is proven in the NRL and with Darell Olpherts will definitely give us more go forward at the start of sets. Olpherts is a bit of an unknown to many fans but when we played Salford early in 2019 I was struck by how difficult he was to tackle by our middles when returning the ball out of his own 20m. He has mistakes in him but if they can be coached out of his game he could be a shrewd signing. Another ex-Red Devil – George Griffin – is just the sort of player we need with players like Junior Moors and Grant Millington reaching the twilight of their careers. George appears to have a big engine and admirable work rate and mobility which we have sometimes lacked around the POTB area. The final recruit is Tyla Hepi who was signed from championship side Toulouse. I see him as a good replacement for Mitch Clark to give us something different off the bench. He's not the biggest but hits hard and has some skill and speed for a front rower. I remember watching him as an 18 year old when he played at HKR and was amazed how tough he was for his size – whacking much bigger blokes for fun.
I think we have cover in most positions but need a bit of luck at half back having offloaded 2 back up halves. Young Fullback Callum Turner who has played a few SL games appears to be being groomed as cover – he is a good footballer and it may work, but he needs time in the newly formed reserve grade to polish his familiarity with the position.
Golden point was used in Super League last year – what are your thoughts on the system?
For me, both teams should be awarded a point each for a draw after 80 minutes. Then we go into extra time and the winner takes an extra point (and market this as 'The Golden Point').
Which one of your clubs players is the one to watch out for this season?
I am looking forward to seeing all the new recruits, but the one who has the most potential to improve what we've achieved in 2018 and 2019 is Danny Richardson.
Which of your young players is most likely to make a name for themselves this season?
I had been of the opinion that we haven't been producing enough home grown players for a number of years. I may be wrong but it appeared junior development was being neglected as far as resources were concerned. Fortunately that appears to have changed and as a club we now seem to be giving junior development the importance it deserves. The club is attracting young players from both the immediate catchment area and further afield.
Last years' Academy had a difficult season but the clubs scholarship team were a revelation and credit to their coaching staff, community teams and schools. Most of those players are moving into the new U18 set up and it will be interesting to see how they progress. A few of those players have already played for the 1st team in pre-season friendlies and have shown great promise for kids of 16/17 years of age. Don't like putting pressure on young kids with high expectations but wouldn't be surprised to see a few of them playing the odd SL game in the next 18 months. I don't think we'll see too many younger players get first team chances. Young prop Lewis Peachey debuted last season and may get some more minutes, Lewis Carr a promising winger is unlucky as we now have depth with Super League experience.
One who may debut if we have similar injuries to 2019 is young back rower Joe Summers who has a good all-round game.
Right, can you give us predictions…
I can't see past Saints for Super League winners – they appear to be at least as strong as last year and I'm not sure other teams have improved their squads sufficiently to trouble them. I don't really fear any other team, but think Hull could be dark horses and may be a good bet for the Challenge Cup again (they're our Challenge Cup bogey team).
SL Predictions
1. Saints, 2.Warrington, 3. Hull, 4. Cas, 5. Wigan, 6. Leeds, 7. Salford, 8. Huddersfield, 9. Wakefield, 10. Catalan, 11. Toronto, 12. HKR
Who will be Man of Steel? Do you agree with the way the votes are given out?
Last years' system of awarding points was better than a players vote, which had been abused in previous years. However, the panel needs better guidelines on what constitutes a Man Of Steel performance and it's not just grafting and tackling.
The result last year was correct, in my opinion, but often I get the impression that voting is swayed by whoever is the "flavour of the month" as highlighted by the press and TV pundits.
Tip for 2020 – 1. Luke Thompson, 2. Daryl Clark, 3. Jake Trueman